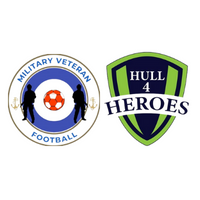 The world is full of exceptional and inspiring people, and the Pat Field Shield commemorates one of them, whilst helping hundreds of others.
2 armed forces veterans football teams, will be strapping on their shin pads and going head to head to raise money for 2 incredible organisations in memory of Hull man, Pat Field.
What kind of person continues to motivate and inspire others even after his passing?
Who was Pat Field?
His Step-Son Russ Stamp, tells us more:
"Paddy was a fantastic character. He was well known for his sense of humour and energy. As family though, we also got his love and protection. There was nothing he wouldn't do for us. And that included winding us up at every opportunity.

He inspired me to follow in his footsteps and sign up to the Royal Navy, and this made our bond even tighter. Our shared love of football was another huge connection, we both followed  our home town of Hull City and Pat also supported Arsenal, we loved going to matches together when leave allowed."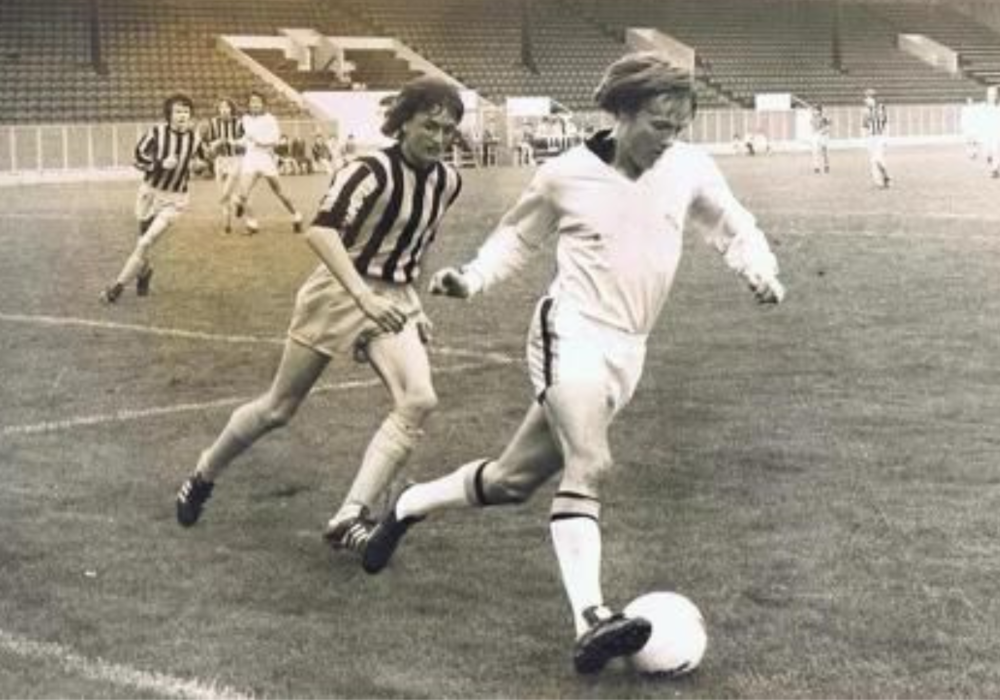 Pat was himself a promising footballer. In his youth he played for Hull City Schoolboys. He even had a trial for Nottingham Forrest  but his sense of adventure won through, and he signed up to the Navy instead of pursuing football.
This proved to be a winning combination for Pat as he got to see the world and still play the game through the many ship v ship football matches held throughout his naval career.
What happened to Pat?
In 2019, Pat was cycling in his hometown of Hull. He suffered life changing crush injuries to his legs in a preventable accident that later saw the HGV driver imprisoned.
Pat cheerfully faced and recovered from extensive operations to rebuild his legs. Nicknaming himself Ironman to his Grandchildren in his usual manner of protecting those he cared about with his mischievous humour.
2 weeks after sustaining his injuries and undergoing surgery, Pat was finally out of intensive care.
Sadly, Pat then suffered a cardiac arrest caused by a pulmonary embolism. This took Pat unexpectedly from his loving family after fighting back from his injuries with the courageous attitude he was known for.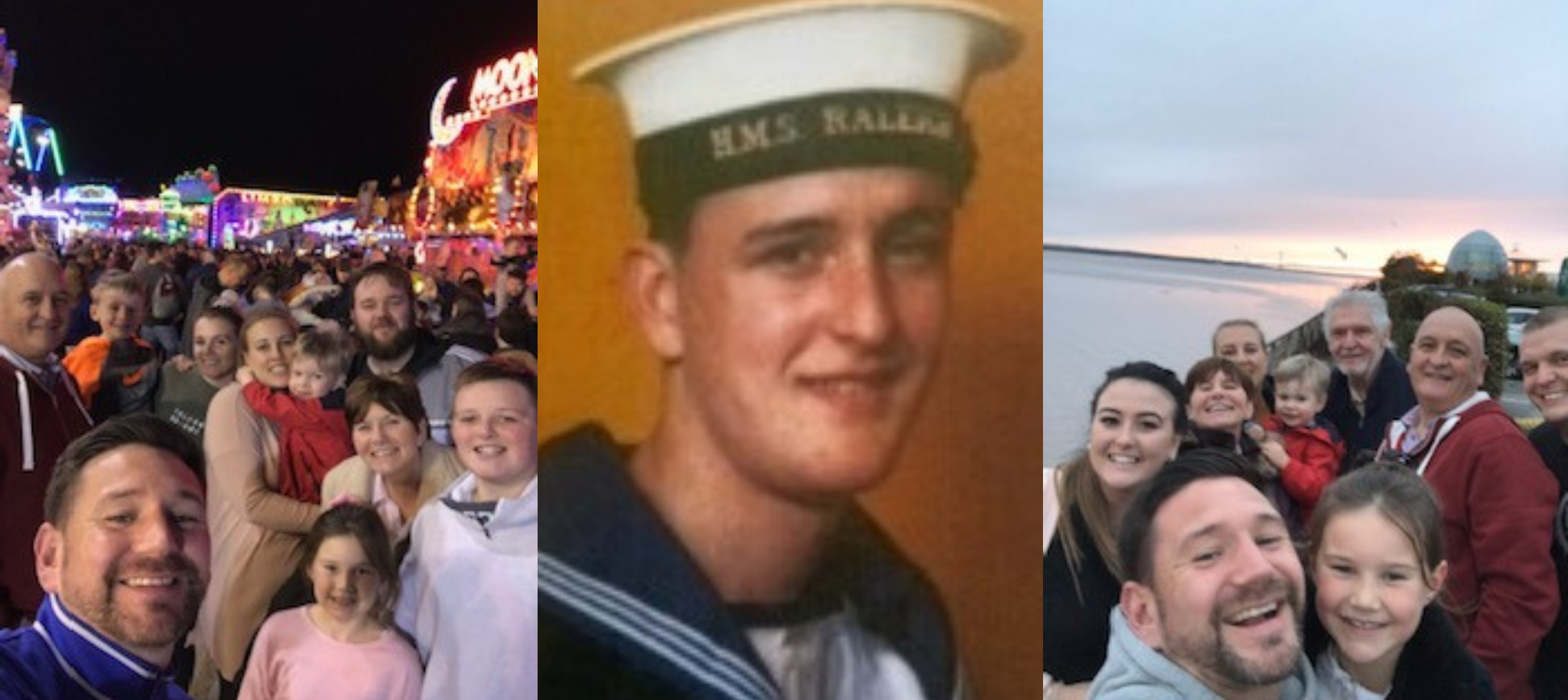 How was Pat Field Shield started?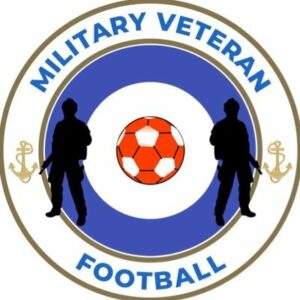 Russ Stamp, Step -Son of Pat, lives in Sunderland. He is the Community Co-Ordinator for the Military Veterans Football CIC, a group of footballers with an armed forces background that meet regularly for 5 aside football matches in various locations across the UK.
Feeling the time was right to do something positive in Pats name he approached the charity Hull 4 Heroes who have developed strong connections with veterans in the Hull area, and are an organisation that Pat supported.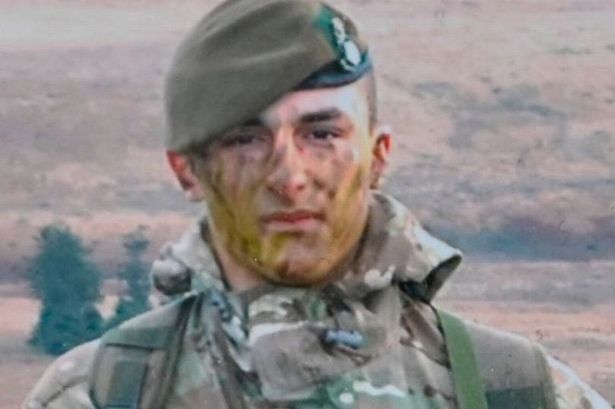 Hull 4 Heroes had a football team Team Geo, which was set up in memory of George Ellis, an outstanding young man taken by suicide aged just 24. The team, along with George's family and friends, continue to highlight military male mental health issues.
Jon Kemp of Team Geo explains more:
Georges Dad, Adrian is now an integral part of the team by becoming our chairman. We are now a fully affiliated team playing in a charity league in Hull. Geo has expanded into a talking group for men on a Wednesday evening. (Ladies event also available)

Geo FC play to promote and raise awareness for mental health with their phrase Get Emotions Out"

When Team Geo and MVFC  had a chat they decided that an 11 aside, 2 leg shield challenge to tie in with Sunderland AFC V Hull City fixtures was the most meaningful way to organise the dates.
Incredibly, the first leg on 17th December, falls on the birthday of Pats beloved Wife, Mel.
Dave, founder of MVFC, gives us his reactions to Russ Stamps efforts to commemorate his Step-Dad Pat.
'We are extremely honoured to be asked to help organise the Pat Field Shield. Although we never had a chance to meet Pat, we hope that we can do him and his family proud in both matches.

Russ is a very well liked and respected member of MVFC, so we jumped at the chance to support him with building a legacy for Pat. From what Russ and his family have told us about him, the football sessions we offer would have been right up his street.

We hope that this will become an annual event with Hull 4 Heroes Team Geo in honour of Pat and that in his name we can raise vital funds to help veterans access football and mental health support that is so desperately needed right now.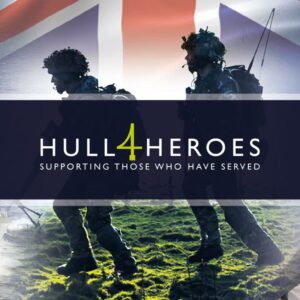 Paul Matson, the Founder and Chairman of Hull 4 Heroes says
"We are extremely proud of our lads who pull on the GEO FC shirt to play to promote Military Men's mental health. These games are especially poignant in raising funds and awareness of 2 organisations that are doing their upmost to support veterans who may be struggling. It is even more special that we are playing in memory of Pat Field who had links to both Hull and Sunderland. Both matches should be a great day and we urge people to come down and support"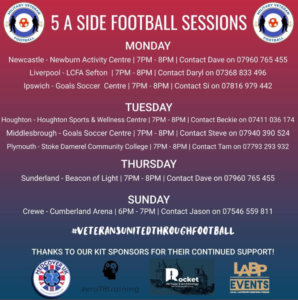 Rob Scott, is the Recruitment Co-ordinator for Sunderland AFC. He regularly connects with Military Veterans Football Club (MVFC) through SAFC's drive to recruit armed forces veterans and gives us some insight into them.
"MVFC Sunderland play at the Beacon of light which is a community sports hub situated on the footprint of the Stadium of Light.

They have been instrumental in promoting opportunities for armed forces veterans at Sunderland AFC. They provide an excellent recreational activity for veterans and their supporters via the football hubs. Everyone and anyone who has had the chance to attend one would see the benefits it brings"
When and where are the games happening?
The first leg is happening on Saturday 17th December at 1.30pm at the Tigers Trust Arena in West Park in Hull. This will be held indoors so the weather doesn't postpone the game. Inside there is a café and the opportunity to make donations, or enter the fundraising raffles and auctions.
Afterwards the Priory Pub in Hull will be the place for drinks and the drawing of the raffle. Russ would like to thank Nicci Stamp for her outstanding effort in the area of Hull to help organise the prizes and event. It truly has been all hands on deck.
The second leg will take place on the 7th April in Sunderland at Downhill Football Hub with celebratory drinks afterwards at the Navy Club.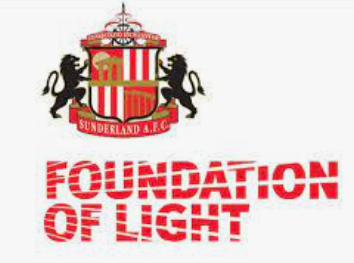 The Foundation Of Light (Charitable arm of Sunderland AFC) are funding the pitch for the 2nd leg of this match at Downhill.
Liz Barton-Jones, is the Head of Sports and Wellbeing at the Foundation of Light, and she tells us about their relationship with MVFC
'The Foundation of Light are delighted to be working in partnership with Military Veteran Football Club to deliver football and family activities to those that have served in the armed forces. 

We are delighted to host the Thursday football sessions at our home the Beacon of Light. The veterans who attend the football have used the power of football to connect and make friendships with those who have served. It's been great to be able to provide the service through funding from the Armed Forces Covenant Fund who support Team Talk activities.'
Supporting the Pat Field Shield
The teams have received some great donations for this event including the chance to bid on a radio takeover on a local station for an hour. The winner is able to choose the play list, read the news and enjoy the experience.
With only a few weeks to go the teams are still accepting items to raffle off. We ourselves at Terraces And Troops will be donating some of our Reflective Hats  in our bid to keep people safe on the roads during winter nights.
If you wish to make a prize donation please contact Jon Kemp at Team Geo for Hull donations and Laura at MVFC for Sunderland donations.
For funds you can use the Just Giving Link here.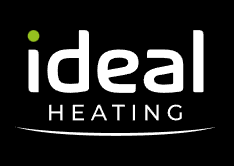 Unsurprisingly due to Pat's good nature, a match sponsor soon stepped up in the form of  Ideal Heating  quickly followed by GP Pearson Joinery. 
We spoke to Gavin Pearson of GP Pearson Joinery who has kindly sponsored the event to find out why this cause was so important to him.
"I have been a close friend to the Field family for many years and had a lot of respect for Pat.  Commemorating him by combining his love of football with armed forces charities is perfect. My Grandfather was a Para in the Second World War so as a family we know first-hand the importance of our armed forces, if we can help more veterans through this event then I am all for it."
Other ways you can help for free
Attend the game. Watching the match is free and creating an atmosphere of support is really important to both sides.
You can share this article on your social media and send it to anyone that knew and loved Pat Field or George Ellis. People that support the armed forces or love football.
In addition, if you can feature this on any radio broadcasts, podcasts or your website then please do so. Perhaps you have a newsletter or another publication that can help support this fantastic cause.  
Our love is extended to the families of Pat Field, and George Ellis.
We would like to thank everyone that contributed to this article.
If you have a forces and football related story or event then please Contact Us