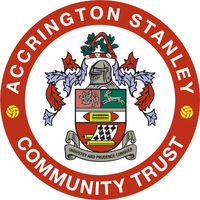 Accrington Stanley Community Trust has long valued their relationship with the armed forces community. Lee Walsh of the Community Trust is heading up their campaign to do more for veterans after being appointed as Military Veterans Project Lead in December 2021.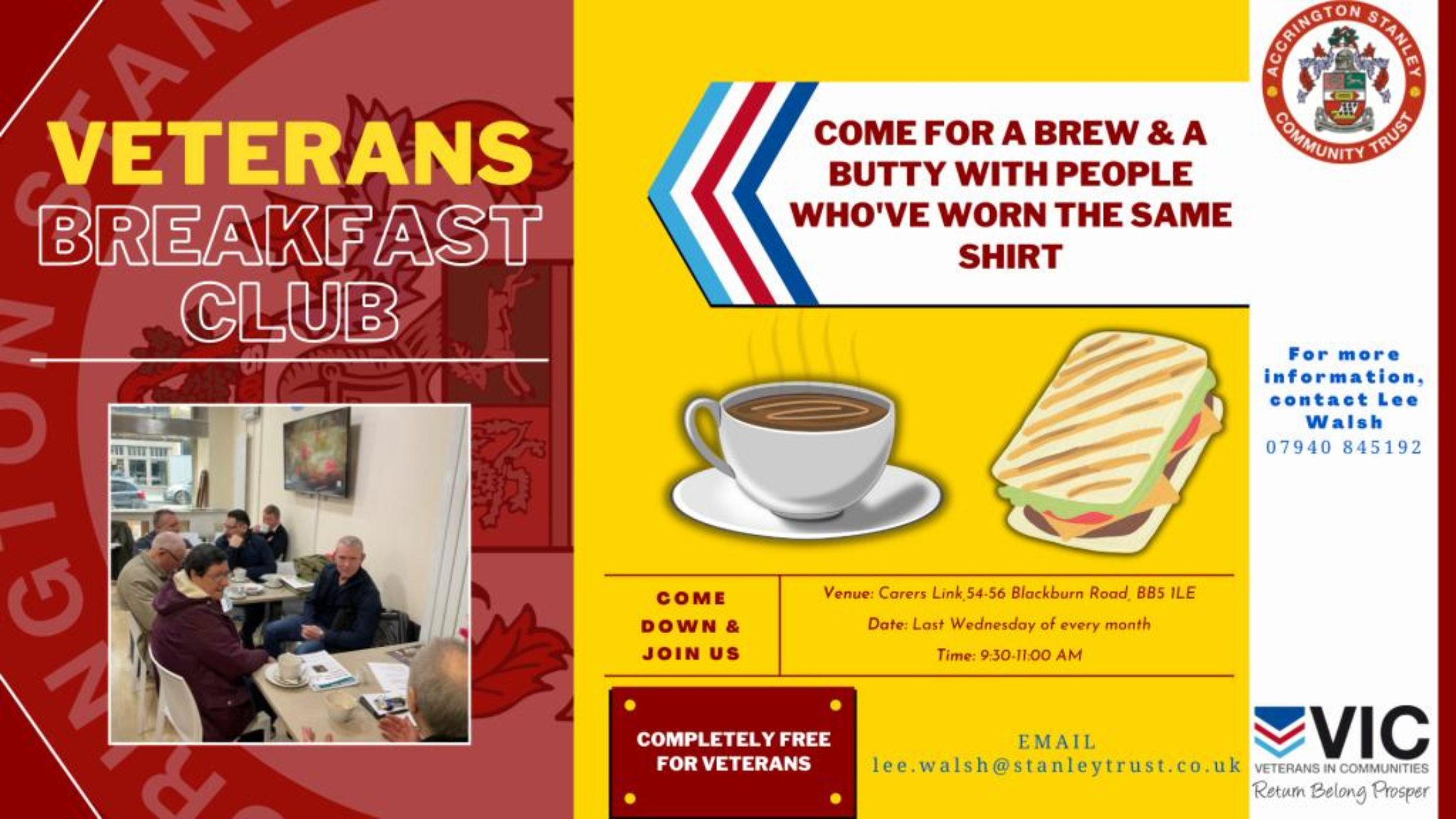 Accrington Stanley Community Trust Veterans Breakfast Club
Initially the Community trusts intention was to trial a monthly breakfast meeting for veterans in the local area. Working closely with East Lancashire based charity- Veterans In Community (VIC) the community trust were able to secure a venue and established solid relationships within the veteran community. The first Accrington Stanley veterans breakfast club took place in January 2022. The project had been launched a mere month earlier and is testament to the support the project has received from both the footballing community and veterans services locally.
Following the first ever breakfast meeting Lee Walsh said
"It was great to see so many people there for the first meeting of our Veterans Breakfast Club, it gave us the opportunity to speak to local people and provided inspiration for future veterans activities."
Initially the breakfast meetings were subsidised costing a mere £3 for a brew and a butty at the venue. However, by April 2022, further funding from The Veterans Foundation means the meetings are now completely free for veterans.
The Accrington Stanley Military Veterans Breakfast event is held on the last Wednesday of every month at The Carers Link cafe in Accrington town centre.
More About Veterans In Communities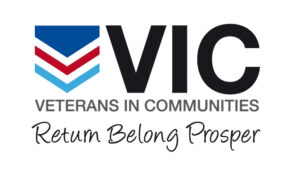 We spoke to Bob Elliott, Operations Manager of Veterans In Communities to talk about the role of sport in military life. Having served 9 years in the Royal Engineers, he knows first hand how important sport is for mental wellbeing and physical fitness.
We met with Accrington Stanley Community Trust in 2021 as they were interested in setting up a veteran group and breakfast club using the football club's good standing in the community. With our experience of working with other community groups and football clubs, we recognise the benefits that local clubs can bring to the armed forces community. Sport is a large part of military life and when they leave, they continue with their personal fitness or enjoy the social aspect that sports bring- Bob Elliott
How Does Veterans In Communities Support The Scheme? 
When we were asked to get involved, we offered our full support as our outreach services operate in Hyndburn. These outreach services meet many veterans living in the community, and VIC could compliment the good work of the social and breakfast clubs that Accrington Stanley Community trust have established.  These groups bring together veterans irrespective of the branch of service, their ages, or personal circumstances. If they don't or can't take part in the physical aspect the club offers, the camaraderie is one of the aspects many veterans miss, and this can only improve the mental health and make new friends and social networks. VIC will continue to support the club in whichever way we can and have already seen the benefits of those participating- Bob Elliott
Lee Walsh Of Accrington Stanley Community Trust would also like to give special thanks to the following organisations for their advice and support in setting up this project-
Read on for the other exciting veteran related projects from Accrington Stanley.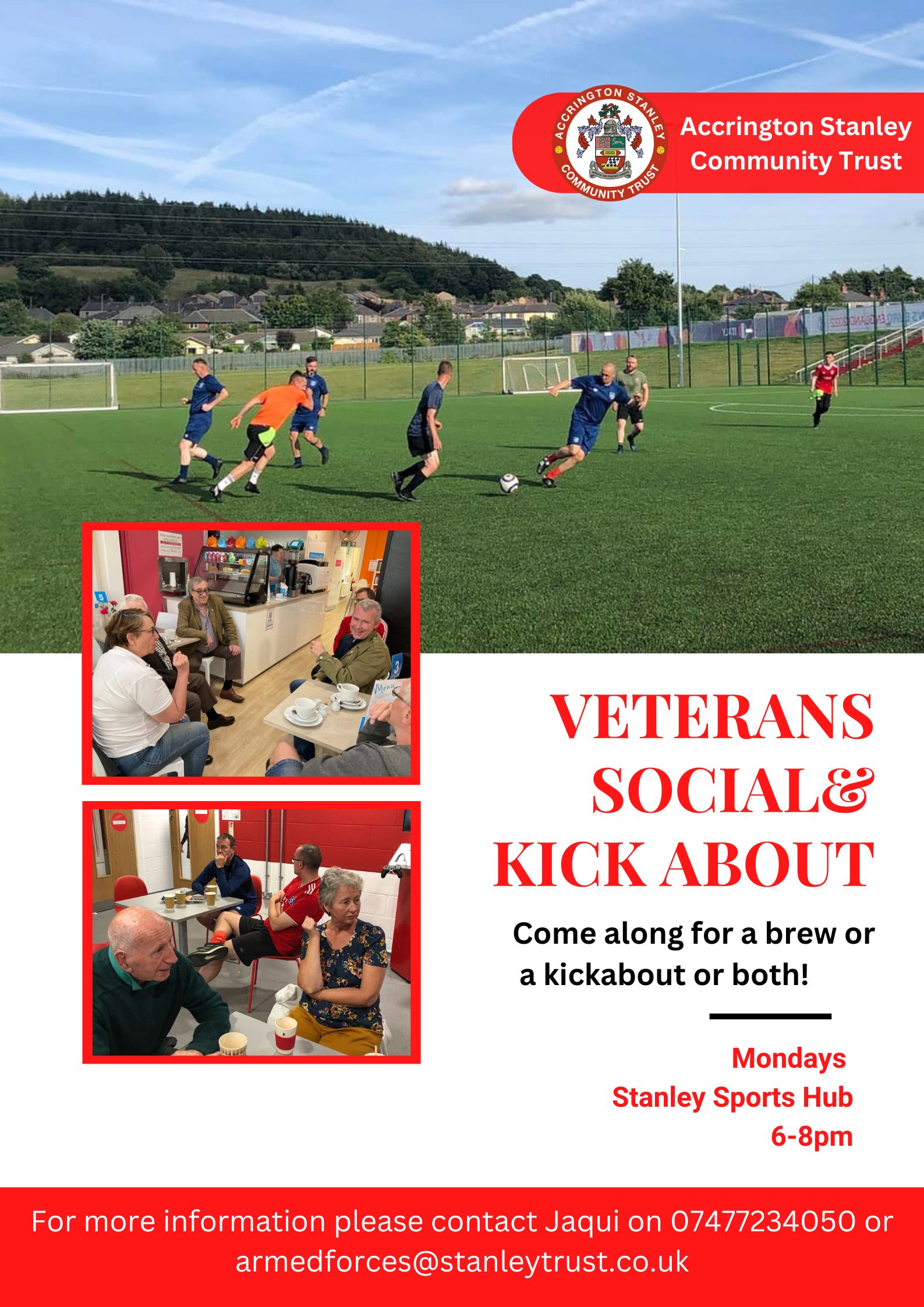 Accrington Stanley Community Trust Weekly Veterans Event
The next task Lee undertook  was to organise a regular social event for current and ex members of the military. Using feedback from the monthly Veterans Breakfast Club it became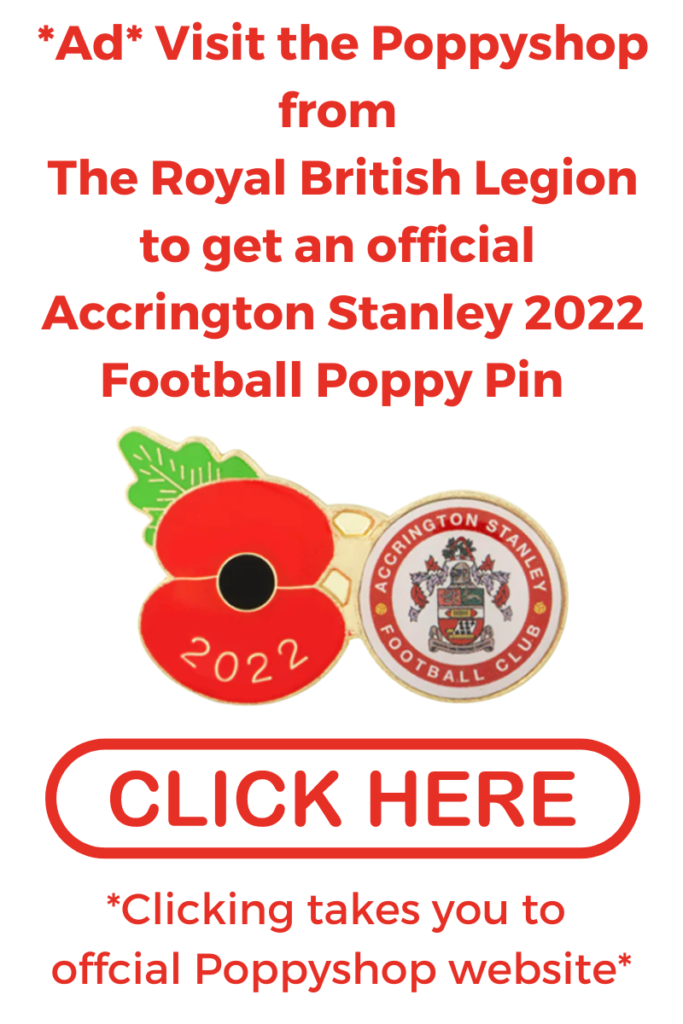 apparent that many veterans of working age needed an event in the evenings, and somewhere their families would also be welcomed.
''we have been working hard over the last few months to develop a breakfast club in the town that local military veterans can attend, have a free breakfast and speak to likeminded people, from this it's been mentioned that younger veterans who still work would like and evening session they can attend around traditional working hours, Monday evenings at Stanley Sports Hub will now be an opportunity for veterans to socialize and have a kick about. ''Lee Walsh
With an aim to improve both mental and physical health of the community a weekly meeting combines both. Every Monday sees an evening meeting of which the first half is for socialising and the second for playing or watching football. This means that regardless of age or physical ability everyone can attend and feels included.
The family friendly approach sees partners and children sometimes in attendance. It is usual to see children of veterans playing football together whilst veterans chat and form new friendships.
Currently these weekly meetings are held at Accrington Stanley Sports Hub from 6pm till 8pm on Mondays at Stanley Sports Hub, Thorneyholme Rd, Accrington, BB5 6BD 
Lee was delighted to receive some funding from The Veterans Foundation for the Accrington Stanley Military Veterans Project. Their support has been instrumental in keeping this a completely free to attend event .for all veterans and currently serving armed forces members.
 Major General David Shaw is the Veterans Foundation founder and has this to say 
"The Veterans' Foundation has been set up to help fund charities and other charitable organisations that are helping serving and former members of the Armed Forces, and their dependants, who are in need."

"The Veterans' Foundation raises its money through the Veterans' Lottery and donations. Since inception in July 2016, it has given over £11 million through over 600 grants to over 300 unique organisations, many of them small to medium-sized and very worthwhile charities, which are helping members of the Armed Forces community who are in need. Forecasts indicate the Veterans' Foundation will make grants totalling £4.4 million this financial year.  The charities and other organisations we have helped include those tackling the challenges of mental and physical injuries, homelessness, unemployment, children's loss of parents while serving and remembrance.  We encourage you to spread the word." Major General David Shaw
To find out more about the Veterans Foundation, including how to donate or play their lottery, please visit them at Veterans Foundation
Armed Forces Champion Appointed
.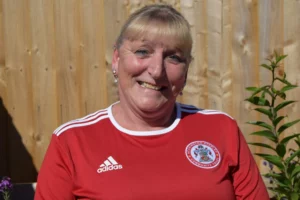 Accrington Stanley Community Trust (ASCT) has appointed its first Armed Forces Champion, Jaqui Collins. Jaqui completed 32 years in the Royal Military Police serving in Northern Ireland, Cyprus, Bosnia, Germany & the UK.
Since her Retirement from the Forces in 2014, Jaqui has raised a considerable amount of money for local charities and has also worked on projects with Veterans In Communites (VIC) and also as an outreach worker for Older Veterans with Age Uk Lancs.
Jaqui is passionate about helping fellow veterans and initially started to assist ASCT with the breakfast clubs, however Stanley Trust soon asked her to come on board as an employee when her dedication, knowledge and passion shone through. Jaqui is instrumental in organising each event and hosted a successful Armed Forced Fun Day for the Stanley Trust at the end of August. Jaquis connections have been invaluable to both the club and her fellow veterans. The next mission is to take their Veterans, along with those from Burnley Football Club, to the National Memorial Abortorium in Staffordshire ahead of Remembrance Day. 
Anyone wishing to make a donation to Stanley Trust Military Veterans Project can contact Lee on lee.walsh@stanleytrust.co.uk
We Attended The Veterans Social And Football Club
After speaking to Jaqui regarding the Military Veterans Programme we decided to go along and see for ourselves the community that ASCT is building with local Veterans. 
On arriving it was clear that this was a place for everyone, irrespective of their age. Along with local Veterans there were ASCT staff, partners of Vets and their children.
Although ASCT lay on refreshments it was heart-warming to see people bringing in treats to share with each other. We spoke with Matt, a Vet who was dishing out some cakes for everyone, about his military history and why he attends the club.
Matt served in the Fleet Air Arm for 9 years working on helicopters. Upon leaving the forces in 2017 he went through the resettlement process and admits that there were times when he struggled to settle into a different way of life. Matt lives locally and although he supports Burnley the Veterans clubs are about having served in the forces. Not which team you support.
My Missus spotted a post on Facebook about this event so i thought i would come along. I've been coming for a few weeks now as well as going to an event at Burnley FC on Tuesdays. The group are really supportive and it's good that we can share stories. I do love having a kick about with them-Matt
Next we spoke to Michael and his Daughter Hilary. 
Michael is 92. Although he doesn't join in with the football part of the evenings event he played football for RAF Wyton, his camp team when he was in the RAF for 8 years. Locally he played for his village team Hemingford Grey. Michael comes along with his Daughter every week for a chin wag. 
Originally a Blacksmith/Welder by trade he was drafted into Bomber Command in the RAF and recalls with merriment the day when he was asked to work on a Lancaster Bomber. More than a little confused as to why they would need him, it soon transpired they wanted something quite unique from him!
I really didn't know why they needed me. Turned out they needed my welding skills for an addition to the Bomber. The pilots needed something to urinate into whilst they were flying. I ended up making a special trough and welding it in so they could stay up in the air for as long as they needed to  – Michael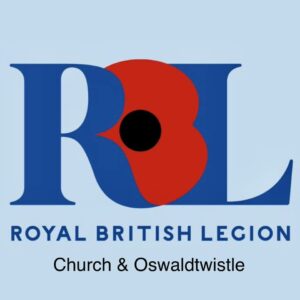 His Daughter Hilary is the Chairperson of the Church and Oswaldtwistle Royal British Legion. It was through her contacts that she got to know about the social club. It is very clear that Hilary is really proud of her Fathers service in the Armed Forces. 
Dad still enjoys socialising and he likes coming to this event on Mondays. It's good that he can spend time with people who also served. Even if they're not the same age. It was a significant part of his life – Hilary
Finally we spoke to Emma. Her Partner Phil was in the Royal Signals for 22 years and her Mum spent 6 years in the RAF.  Emma's Daughter is in the Army Cadets, and Emma herself works alongside Veterans as a member of the team at Burnley Military Veterans Programme. 
These kinds of groups are really important. Phil enjoys playing football but it isn't just about that. These events bring them together and you can see how much they enjoy each other's company. They all know if they need support they will find it here.  – Emma
Accrington Stanley Do More For Veterans
Accrington Stanley Football Club are proud to include Armed Forces personnel in their concessions scheme. This means veterans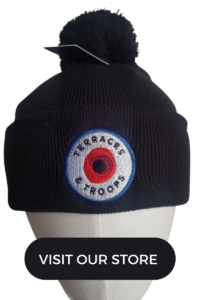 and currently serving members of the military can get into games at a reduced rate. In order to benefit from this amazing saving those that qualify simply need to present their armed forces identification at the time of ordering their tickets. In addition to this the club also support the Tickets For Troops scheme which sees organisations donating seats for events to those in the armed forces. For availability visit the Tickets for Troops website and join up. 
We are big fans of everything Accrington Stanley Football CLub are doing to support Veterans in their local community alongside so many others teams and organisations.
If you would like to feature in a Terraces and Troops article them please Get In Touch  We would love to hear from you.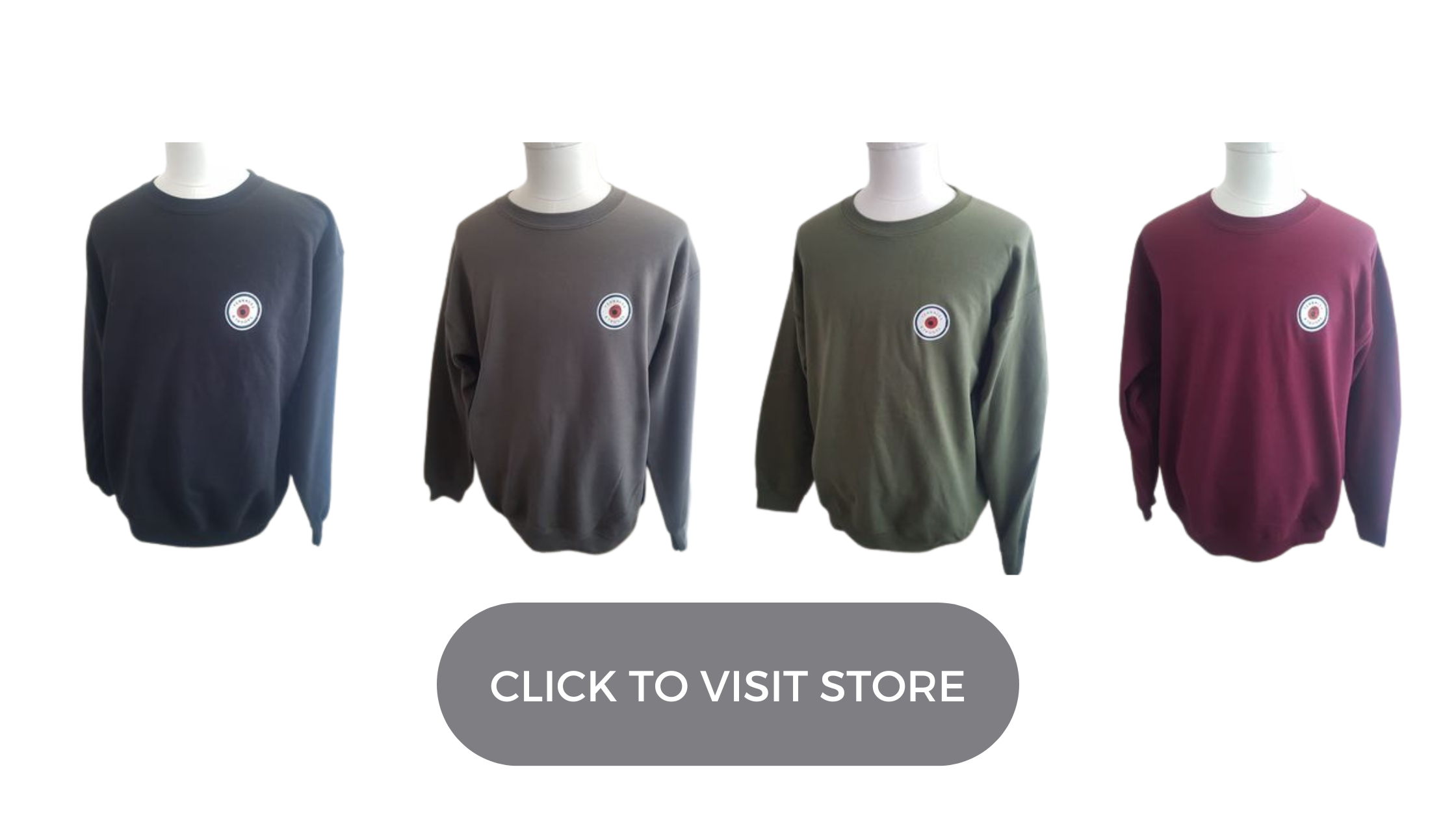 *This article contains affiliate links that may pay a commission to help with our hosting fees*