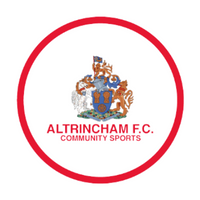 How does Altrincham FC engage with the Armed Forces
Based in Greater Manchester, Altrincham Fc are a professional football club that currently play in the Vanorama National League. They started to develop their ties with the local veteran community back in 2018.
A local veterans organisation Trafford Veterans CIC, approached Altrincham FC Community Manager, Simon Dow, with a view to strengthening the ties between veterans and local sports clubs.
Since then, their relationship has gone from strength to strength, with the club and its fanbase taking their local veteran community to heart.
Simon Dow tells us more about the ways they have been able to provide resources that local forces members can benefit from. One of which was registering Trafford Vets CIC on the Alty For All Scheme, which sees companies and individuals buying discounted Season tickets to donate to a charity of their choice.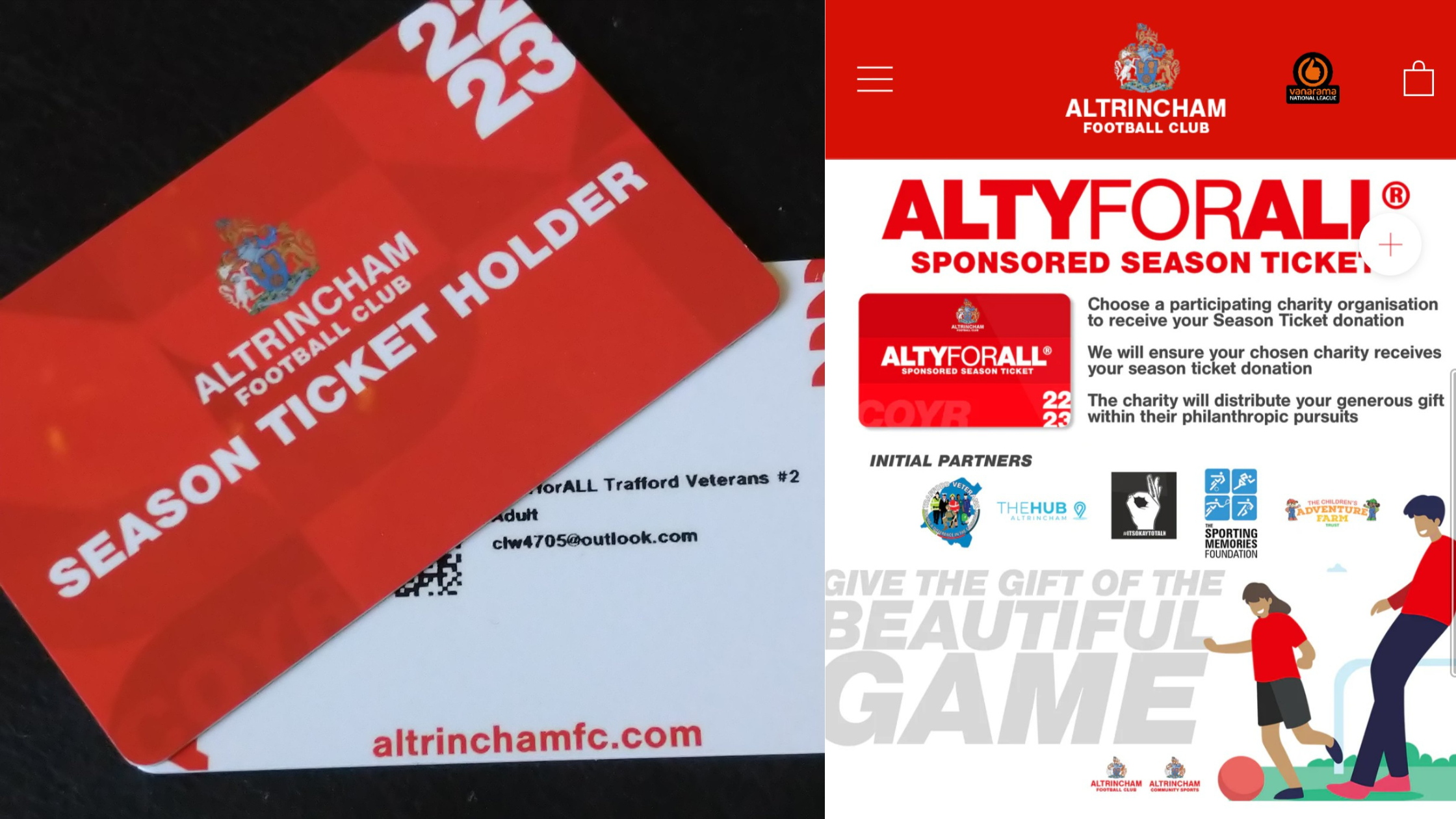 Simon
"Donating some season tickets to Trafford Veterans CIC was one way we felt we could support the charity and its various users.
The season tickets enable veterans to attend the matches free of charge and provides them with the opportunity to engage with the club". Simon-Altrincham FC Community Manager
Claire of Trafford veterans CIC feels that the season tickets are more valuable than the club realises.
"The armed forces is a community in its own right and when people leave they still often want that sense of belonging. Football is another community that they can be a part of whilst still spending time with fellow veterans" Claire-Trafford Vets
Providing The Armed Forces Community With A Home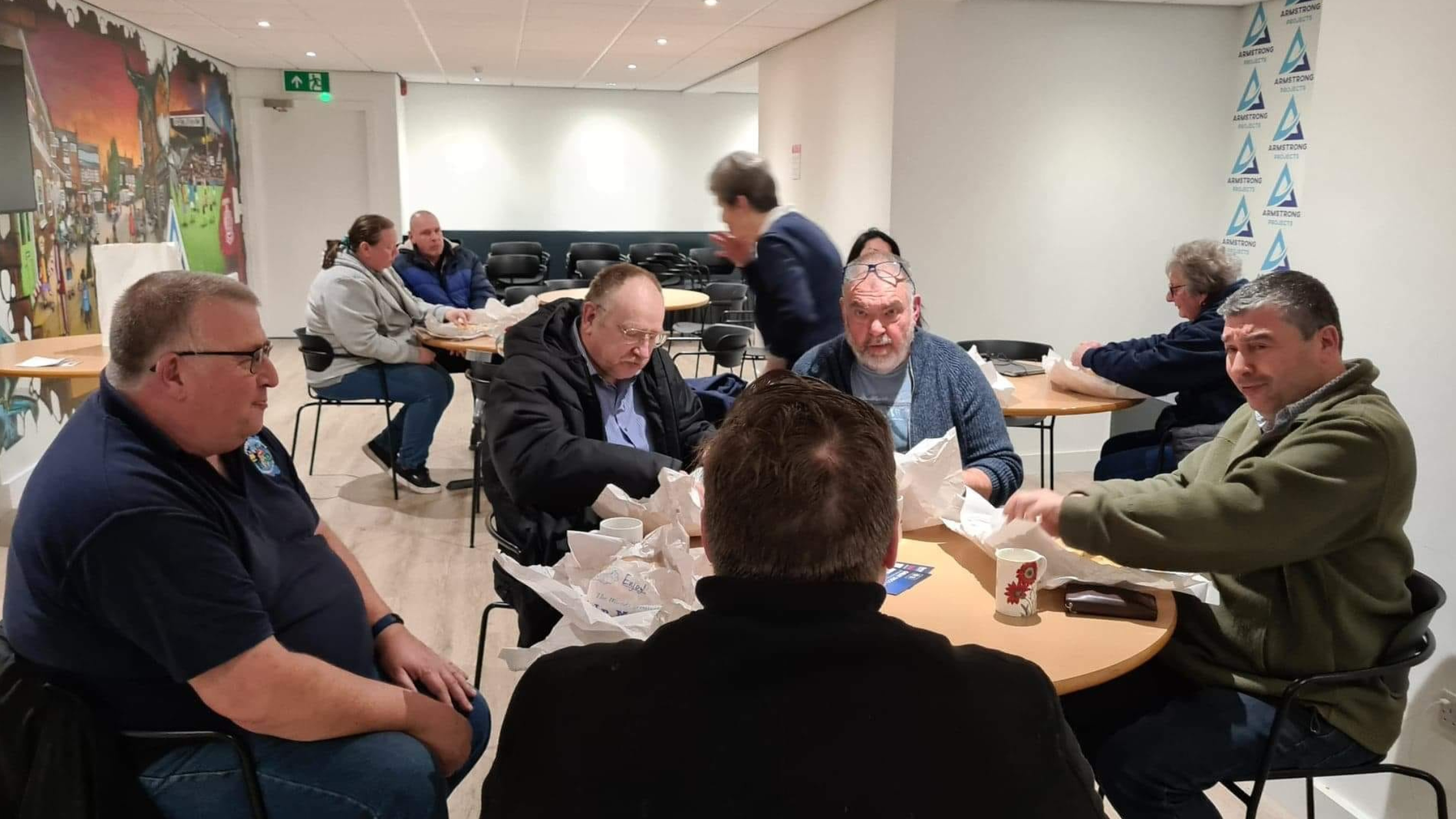 Often local organisations are in need of premises for regular events and Altrincham Football Club soon realised they could make good use of one of their rooms by offering it to the veteran's organisation on a monthly basis.
This monthly get together has become a popular event with the attendees and is run in a relaxed style with activities and food available. Having an indoor facility means the veterans can continue to benefit from each other's company even in adverse weather conditions. This reduces feelings of isolation during colder months, particularly for older veterans.
"The monthly support meetings are a fantastic initiative and one that we really wanted to support. Providing the room is a small way that we can support the brilliant work that goes on".-Simon Dow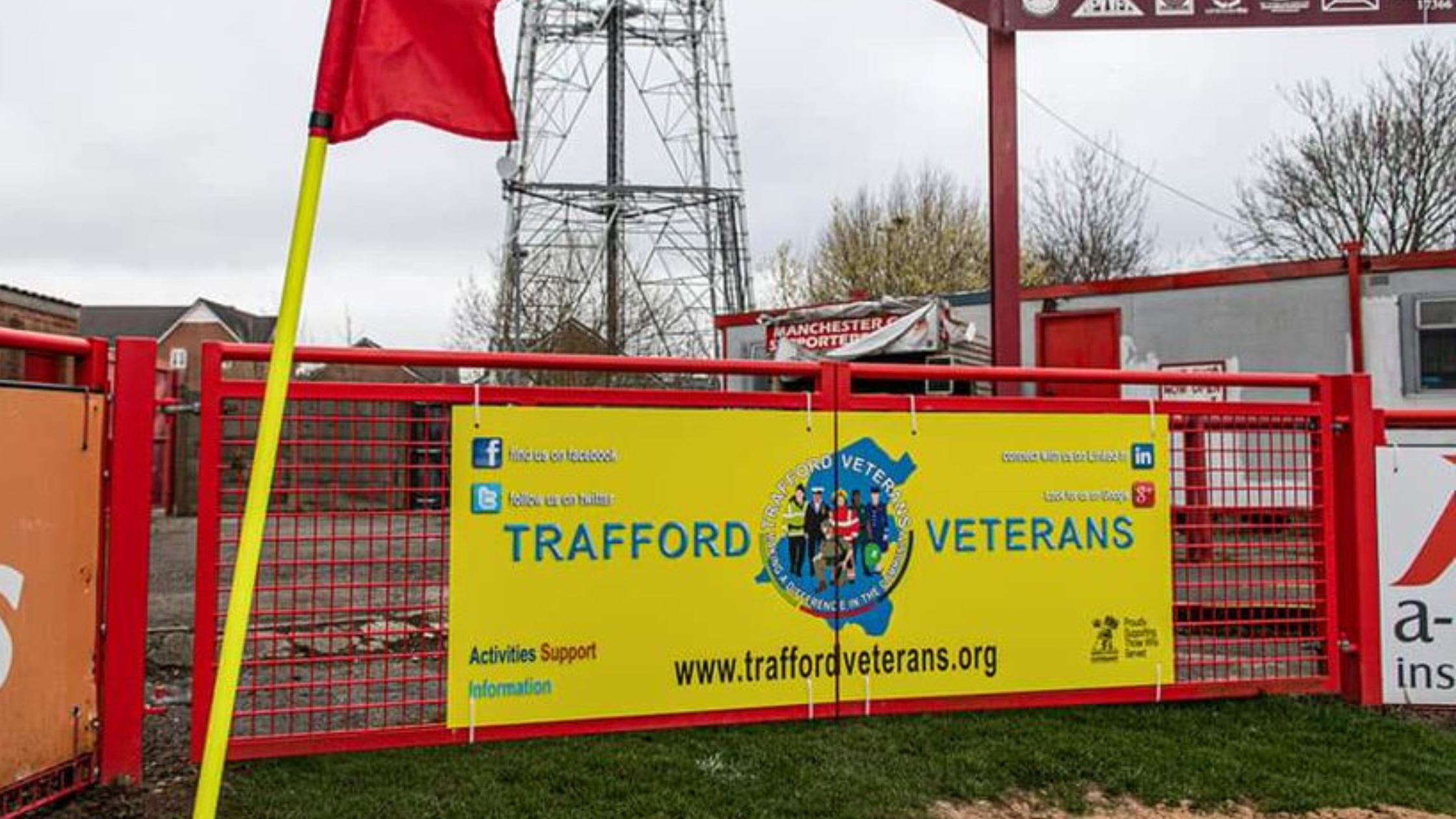 Claire and Chris of Trafford Veterans were delighted when the football club very generously offered to give them some permanent advertising pitch side. 
"Anything that increases our visibility in the community and helps us to reach more veterans is really helpful. There are people that benefit from our services who might not know we existed if it wasn't for Altrincham FC promoting us to the football community"- Claire Wright 
Simon goes on to give an example of the Altringham supporters getting involved with Trafford Vets,
"We were delighted to support the Trafford Veterans Ukraine appeal at the start of the conflict, we were one of the designated drop off points for medical supplies, sleeping bags, clothes, toiletries etc. The response from our fan base and user groups was amazing, but the big credit goes to Claire & Chris for organising it all and making sure the supplies go to where they needed to go".
More Armed Forces Support
Trafford Veterans CIC  is not the only armed forces community that benefits from the generosity of the club and its fan base. They are also avid supporters of Help For Heroes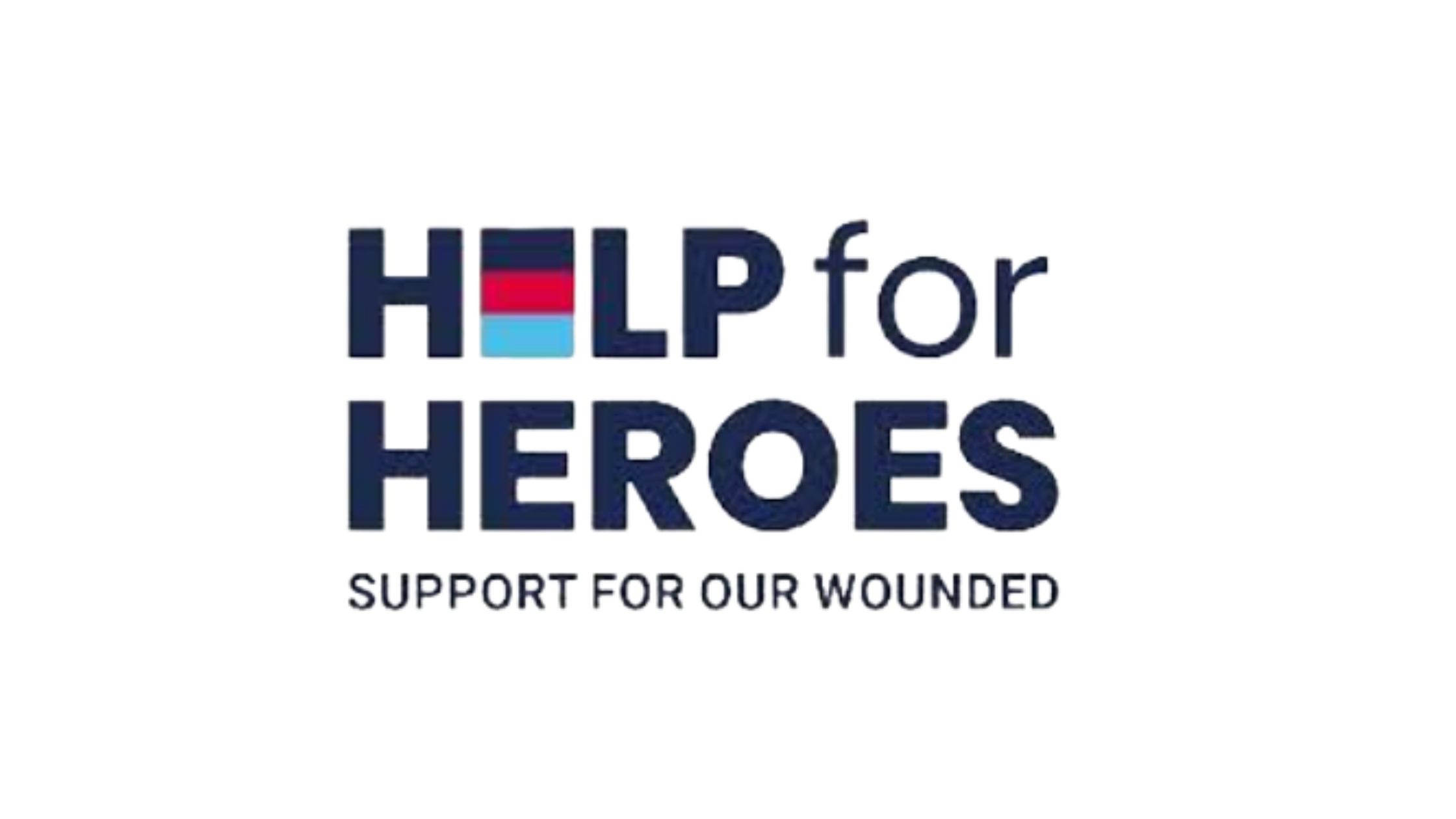 A different charity is authorised to collect donations at each home match and Alty Fc have a planned for Help For Heroes on 1st April 2023 when Altrincham play Notts County.
Both Trafford Vets and Help For Heroes are assigned a match this season to promote their cause and this also includes promotion in the match day programme. Mentions in programmes helps the charity message reach more homes and potentially support more veterans in the community.
We spoke to Rhys Edwards, Area fundraising manager for Help For Heroes about this. 
"Help for Heroes are excited to be invited to collect at the Altrincham FC ground and look forward to attending the match in April.

Help for Heroes believes those who serve our country deserve support when they're wounded. Every day, men and women have to leave their career in the Armed Forces as a result of physical or psychological wounds; their lives changed forever.

The Charity helps them, and those still serving, to recover and get on with their lives by providing physical, psychological, financial and welfare support for as long as they need it. It also supports their families because they too can be affected by their loved one's challenges.

Help for Heroes receives almost no funding from the Government, which means it relies on the spirit and generosity of the great British public, its partners, and volunteers to keep going. It has already supported more than 27,000 people and won't stop until every wounded veteran and their family gets the support they deserve. You can find out more and support us by visiting Our Website."
Remembrance Day 2022 was commemorated when Altrincham FC played York City on the 12th of November.
Trafford veterans sent along representatives of the forces to lay a wreath on the pitch ahead of the match, and they were also supported by flag bearers and a bugle player.
The following day, the wreath was placed on the local cenotaph as a mark of respect for all the lives affected by conflict.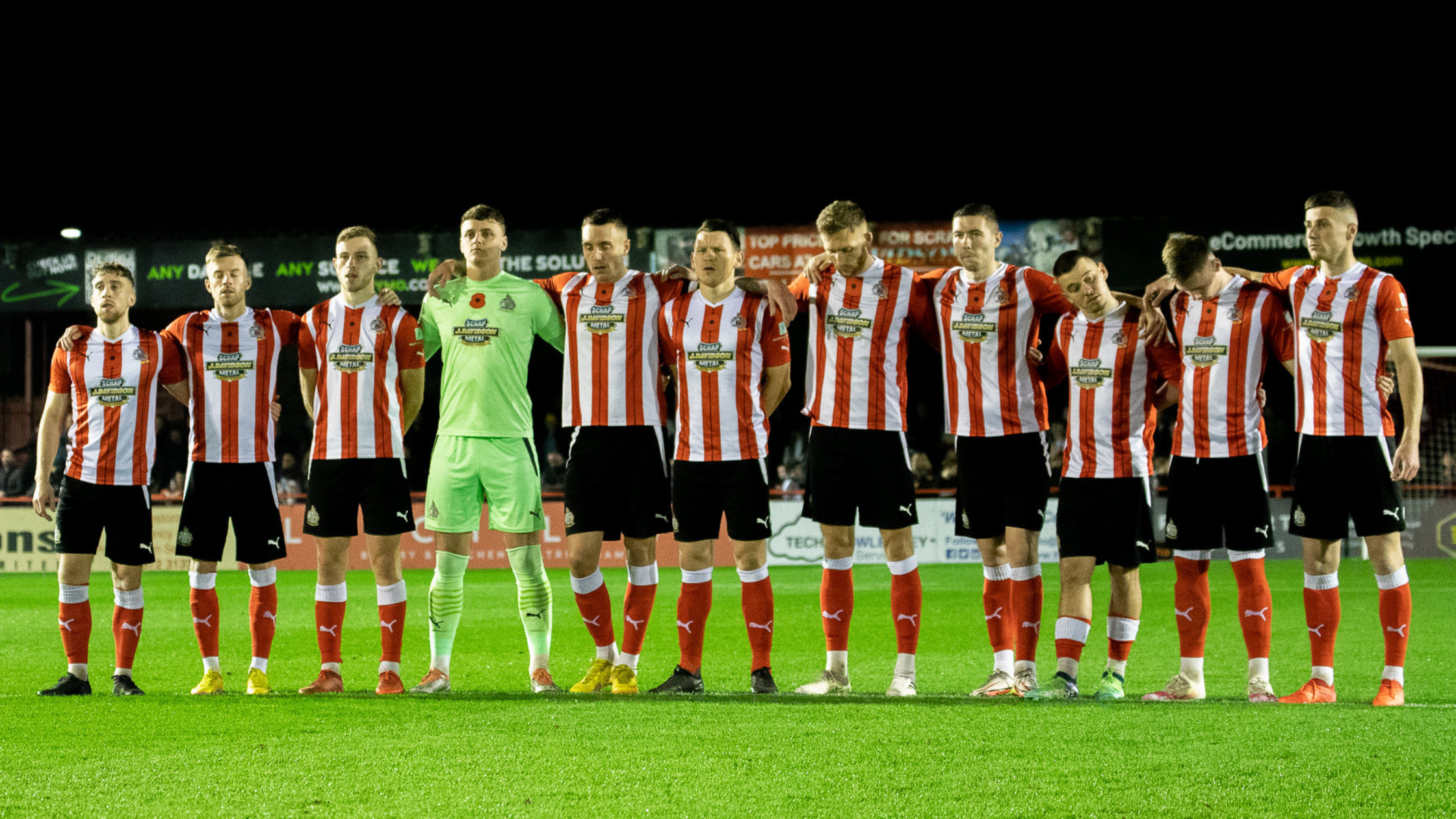 The players sported kit that featured the poppy in a mark of Remembrance, with the silence observed impeccably throughout the ground. All usual opposing fan banter is forgotten in these moments where football fans stand shoulder to shoulder on the same side. The side of respect.
Community manager Simon Dow clearly feels that the commitments they have made to their local veteran community are long term, as the benefits are numerous not only for those in the armed forces family, but for the football club too. We will be checking back with Altrincham Fc next year to see how this amazing relationship is developing.
If you would like to help in any way with Altrincham FC Community projects then email Simon on  simon@altrinchamfootballclub.co.uk
For contributions to Trafford veterans contact Claire on info@traffordveterans.org
Please follow us on Twitter @Terracestroops
 We love to hear about all things football and forces related so if you have something to share with us then Contact Us,
or head to our Blog Page for more articles like these.

Our pages may contain affiliate links to help us pay for the running of this site