Sale United Football Club Partners With Trafford Veterans
Sale United Football Club is one of the largest grassroots club in the North West of England and is an FA Chartered Community Club. Their work on inclusion and welfare for the local community is impressive. Comprising of a huge 64 teams, it's no surprise that many of the players and supporters have armed forces connections.
We spoke to Sale United Football Clubs Chairman and Facilities Manager, Colin Dowdy about their involvement with the local Veteran Community.
Colin, like many others throughout Sale United, is deeply committed to Veteran welfare and when they were introduced to Trafford Veterans CIC they were eager to help them achieve their goal of reaching as many local veterans as possible.
Sale United had a small clubhouse that was occasionally used for refreshments during some games. Other than that, this clubhouse was pretty much unused and in need of a little TLC. This little used facility was soon to be given a new lease of life.
In line with their community focussed ethos, Sale United approached Trafford Vets with the idea of them being able to access the clubhouse for Veteran related activities and events.
Claire Wright of Trafford Veterans CIC was delighted with the offer and with a little funding, a group of Veterans set to work redecorating the clubhouse to make it their very own Veterans Hub.  Comprising of a small kitchen area and an area for seating, the Hub was soon put to work as the home of Trafford Veterans CIC.
Sale United Gives Trafford Veterans A Home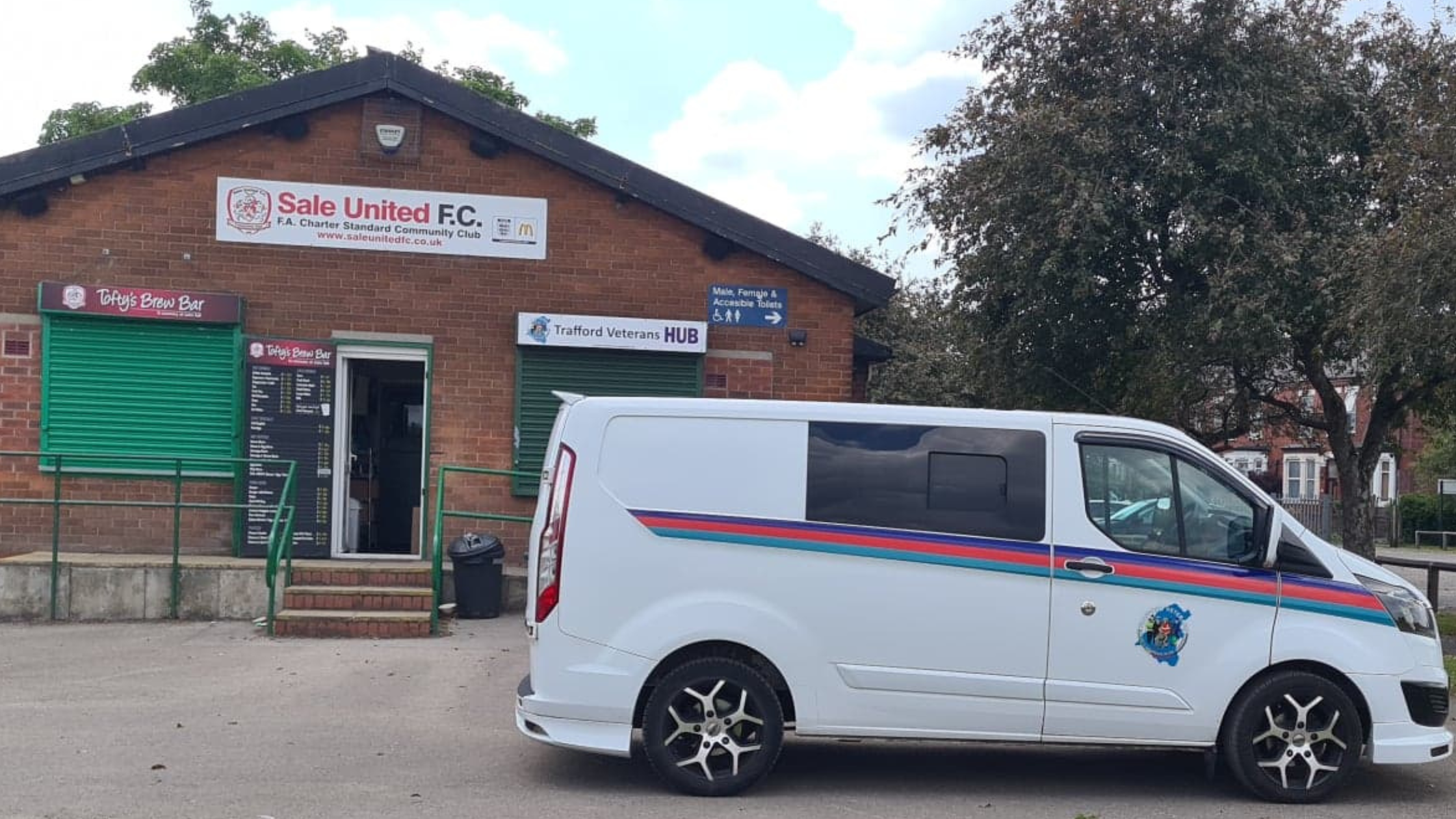 Claire is able to use the clubhouse as an office midweek which has streamlined their activities and means they have been able to put on many more activities due to having a permanent building. Claire served in the Royal Navy Reserves and then the Royal Navy for many years and understands first hand many of the issues Armed Forces Veterans face.
"Having the Hub has given us a sense of permanence and security. It's important for anyone, especially Veterans to have a feeling of belonging. Having this space has made a huge difference in terms of the activities we can offer. Sale United have been fantastic with their support. We can do more in the community now and make a bigger impact."-Claire Wright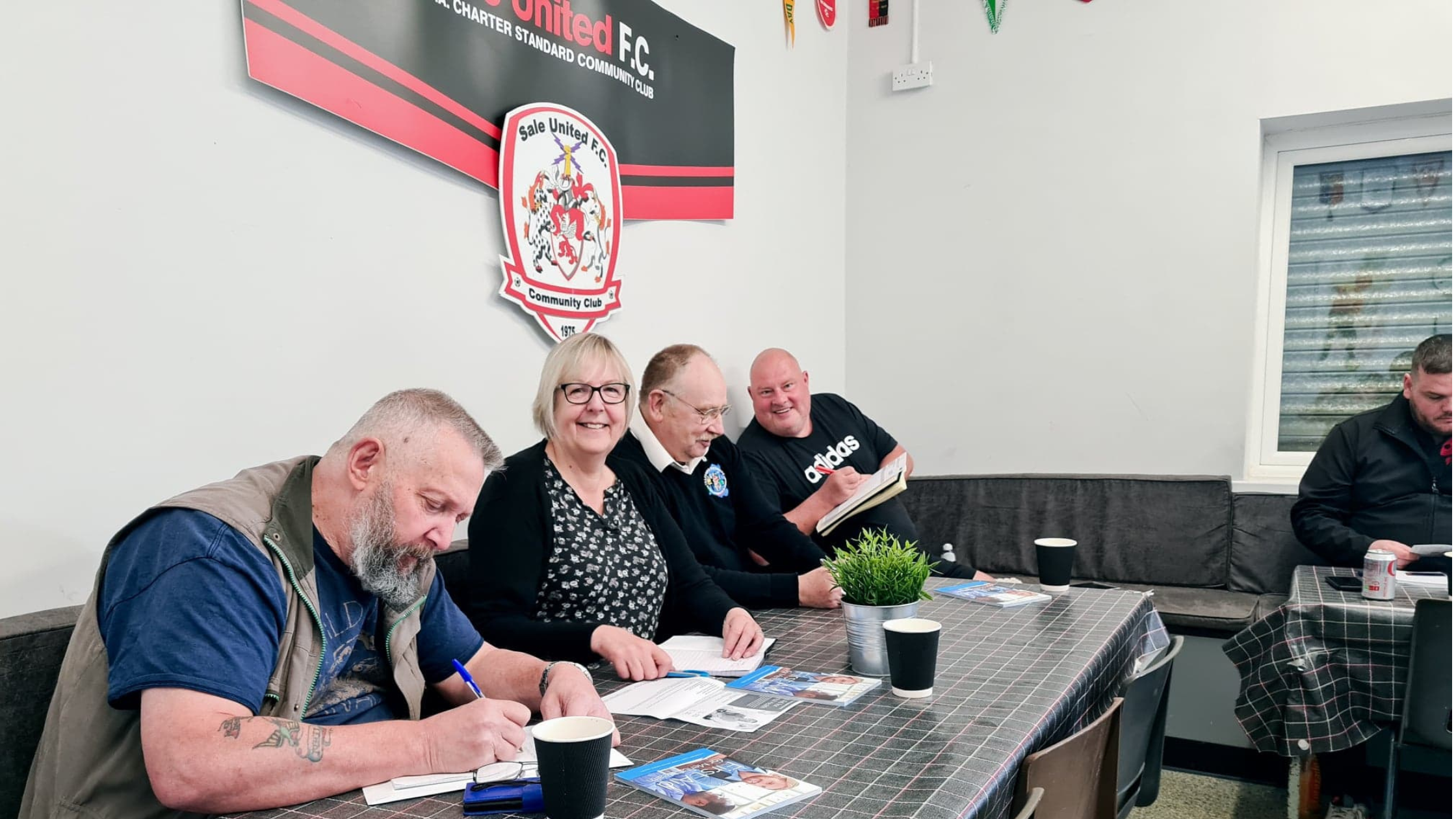 Trafford Veterans were able to facilitate a Mental Health Awareness Course at the Hub, with many in attendance.
The area outside the Hub is suitable for larger gatherings which means the family and friends aof veterans can also attend events. In warmer weather it isn't unusual for the BBQ to be on.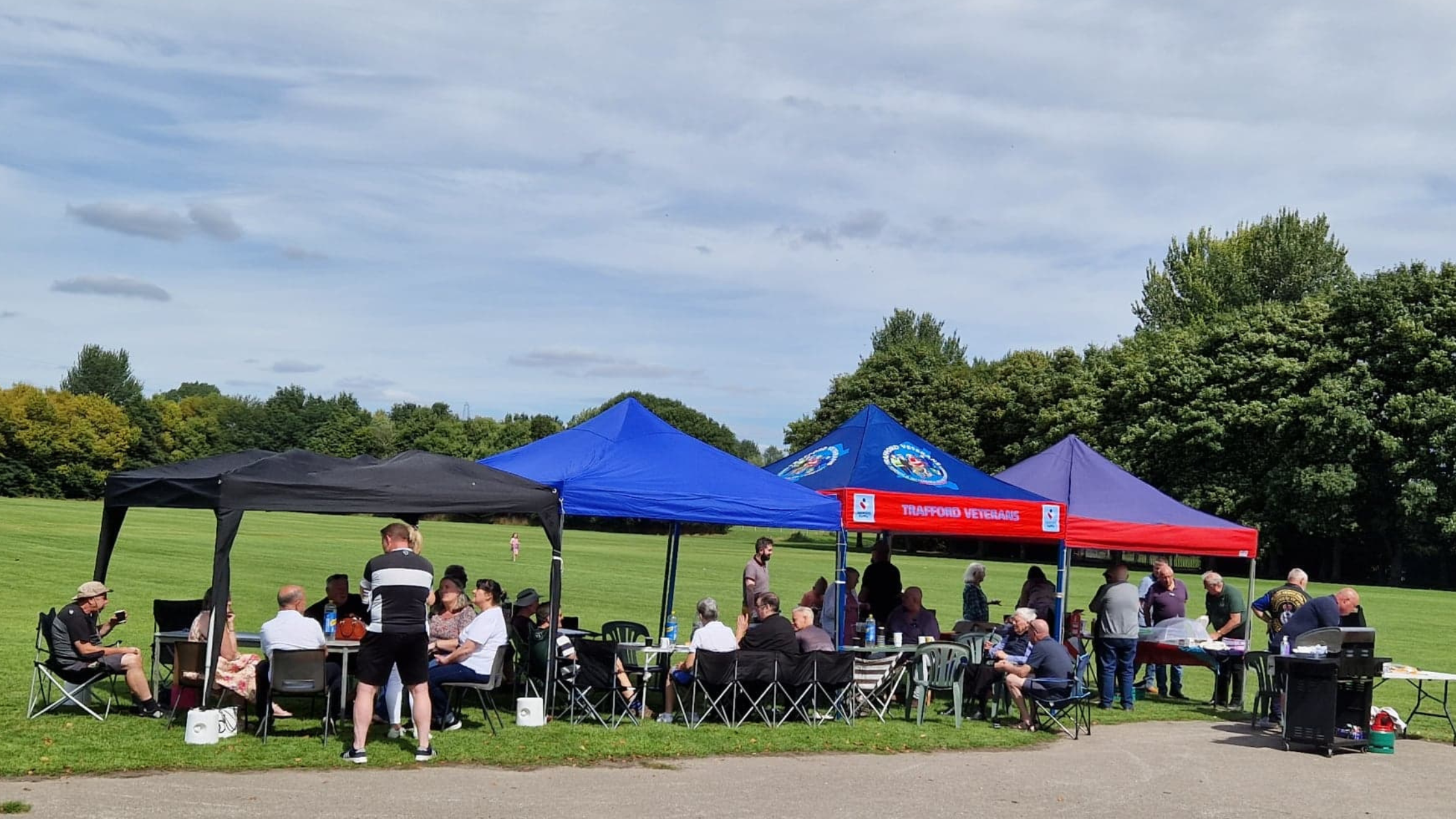 Sale United FC Proud Of This Commitment
"It was an absolute pleasure to be able to help Trafford Veterans find a home. Their work in the local community is outstanding and we are a community club. The Hub is a credit to their hard work and it is always great to see so many people attending"- Colin Dowdy
It's clear this this is just the beginning of a partnership between Sale United FC and their local Veteran Community.
"We are looking for ways to do more, like any club we have financial restrictions and limitations but as we have shown with The Hub, there are other ways to help." Colin Dowdy
Through Claire at Trafford Veterans , a band called The North West Veterans Corps of Drums has also been given space to practice in another, larger outbuilding belonging to Sale United.
We are sure that Sale United FC will continue to support Trafford Veterans CIC along with 2 other local football teams, Trafford FC and Altrincham FC.
If you can think of more ways to support Sale United FC or Trafford Veterans CIC in their community projects or would like to find out about their activities and events, please go to their websites or get in touch via email.
Sale United Website- Saleunitedfc.co.uk                    Colin Dowdy- colin.dowdy@ntlworld.com
Trafford Veterans Website- Traffordveterans.org/        Trafford Vets- info@traffordveterans.org
Terraces And Troops wants to hear about your football and forces stories! Please get in touch with us via our Contact Form