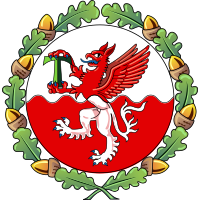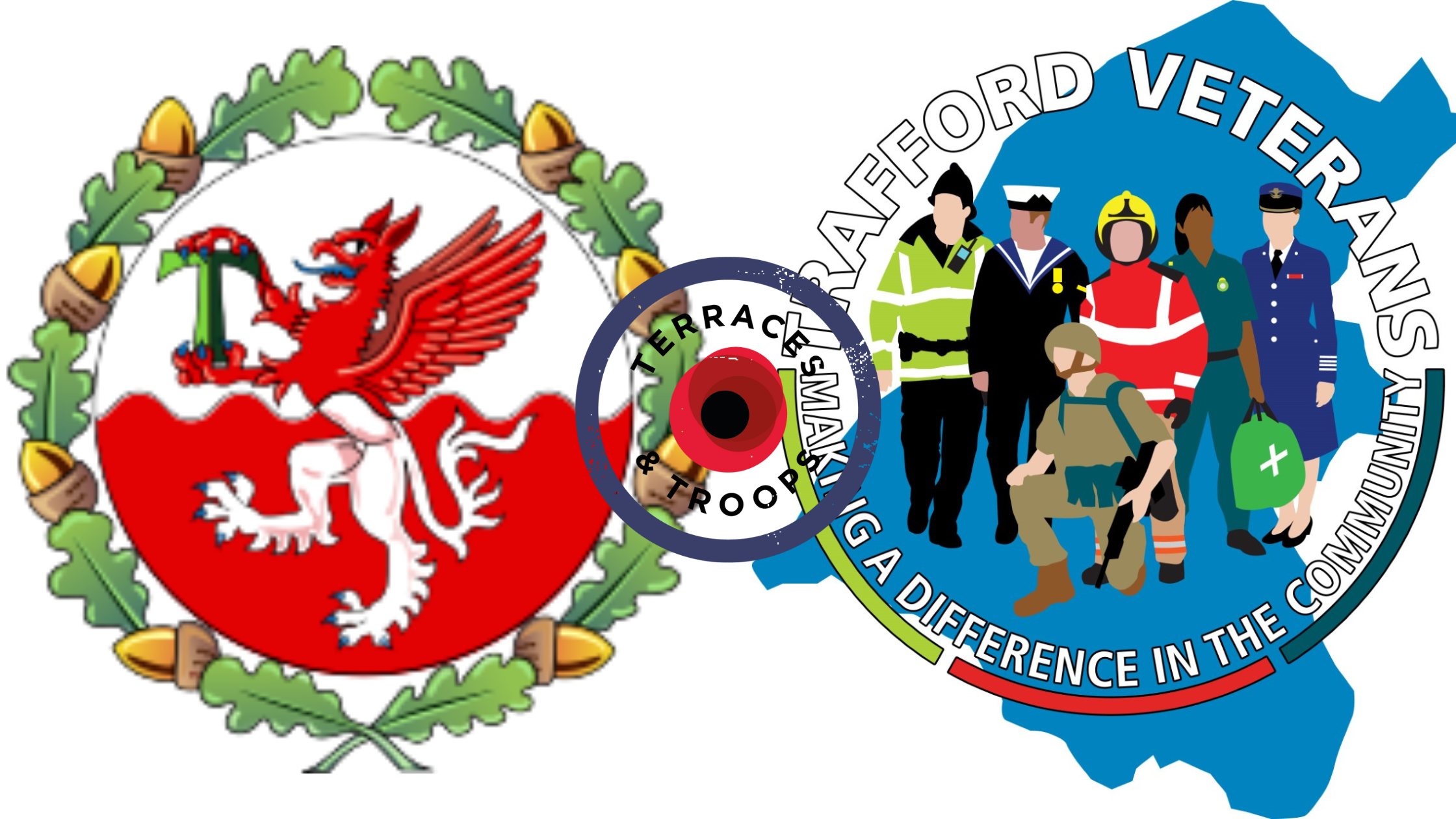 Trafford Football Club And Their Local Veterans
Social media proved to be a great ally when Trafford Football Club tweeted a few years ago that they wanted to invite local Armed Forces Veterans to lead out their team on for their Remembrance Day Service.
Melody Stephens, part of the Trafford FC committee recalls
"I put out on Twitter that we wanted to invite armed forces veterans to attend the remembrance weekend match & lead the team out on the pitch. Claire from Trafford Veterans CIC got in touch & it went from there. A great relationship was formed instantly and they've joined us every year since."-Melody Stephens
We caught up with John Eadie, the Chairman of Trafford FC to find out more about the first service they carried out with Trafford Vets.
"Trafford Vets led the team out ahead of the game and the applause for them was outstanding. It was a fantastic atmosphere. One thing that sticks out was the 2021 service. We hadn't all been together because of Covid for 2 years. One of the Veterans, a Gentleman called Frank in his later years, read his own poem as part of the ceremony and you could hear a pin drop whilst he did. The whole service was incredibly well thought out and respectfully received by both the supporters and players of both teams" John Eadie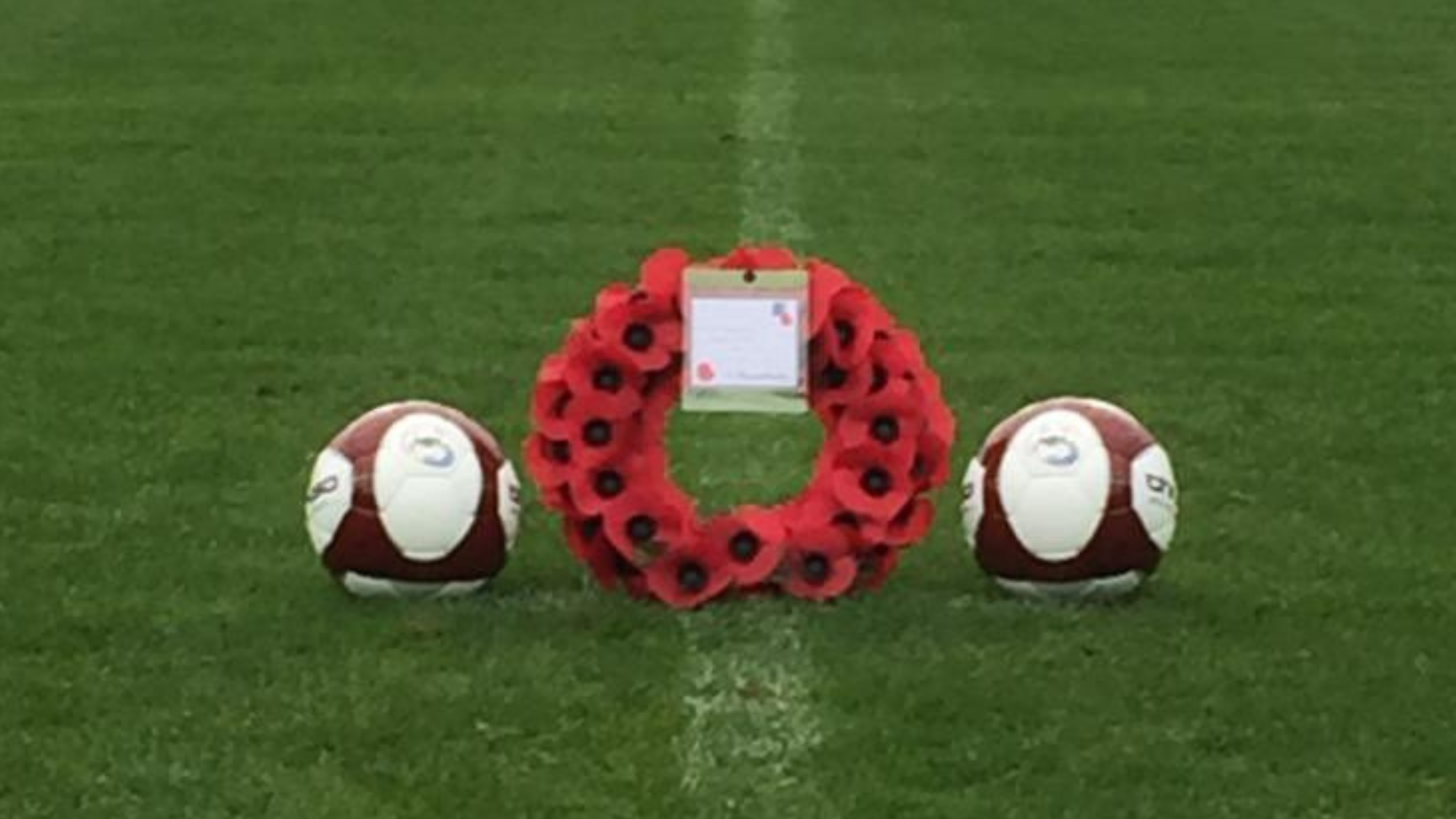 Trafford Football Club knew by the reaction of their supporters that the local Veteran community were well thought of and so they decided they could do more to help.
"Us smaller clubs struggle with funding so we found other ways we could help them rather than just financially. One thing we do is give the Trafford Vets a page in our programme every week for them to publicise their events and raise awareness about them. It's a small thing but it helps to get their message out" – John Eadie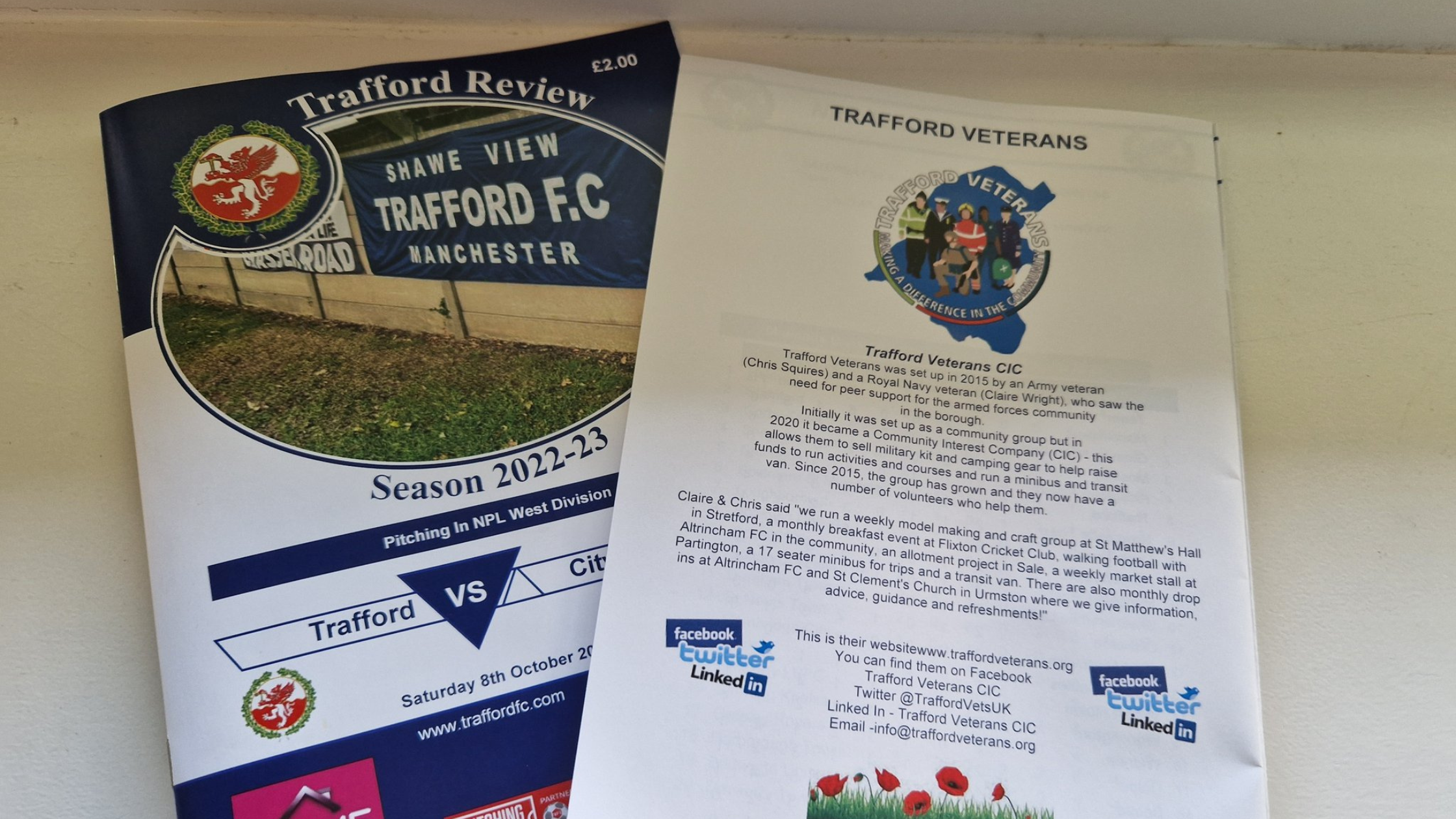 Trafford Veterans have certainly seen an increase in their numbers at events since the club started publicising their work in the community. They also found that many Vets discussed football at their social events, with some saying they couldn't attend anymore for various reasons. Amazingly Trafford FC stepped in once again.
"We decided as a club to donate 2 season tickets to Trafford Vets which they give to a different armed forces member or veteran every game. It works both ways, it helps Vets who are struggling financially or need to socialise more, but it helps to increase our fanbase as Vets will often have family members come along with them too" John Eadie.
Trafford Veterans Giving Back
More surprises were to come though when Trafford Veterans found themselves in a position to do something in return for the club that helped them so much.
During Covid when all football clubs were struggling due to having no gate money. Trafford Veterans decided to sponsor a kit for the forthcoming season at Trafford Football Club but paid the sponsorship early to help out the club.
Trafford Vets now sponsor the warm up tops for the main team and the first kit for the under 18s.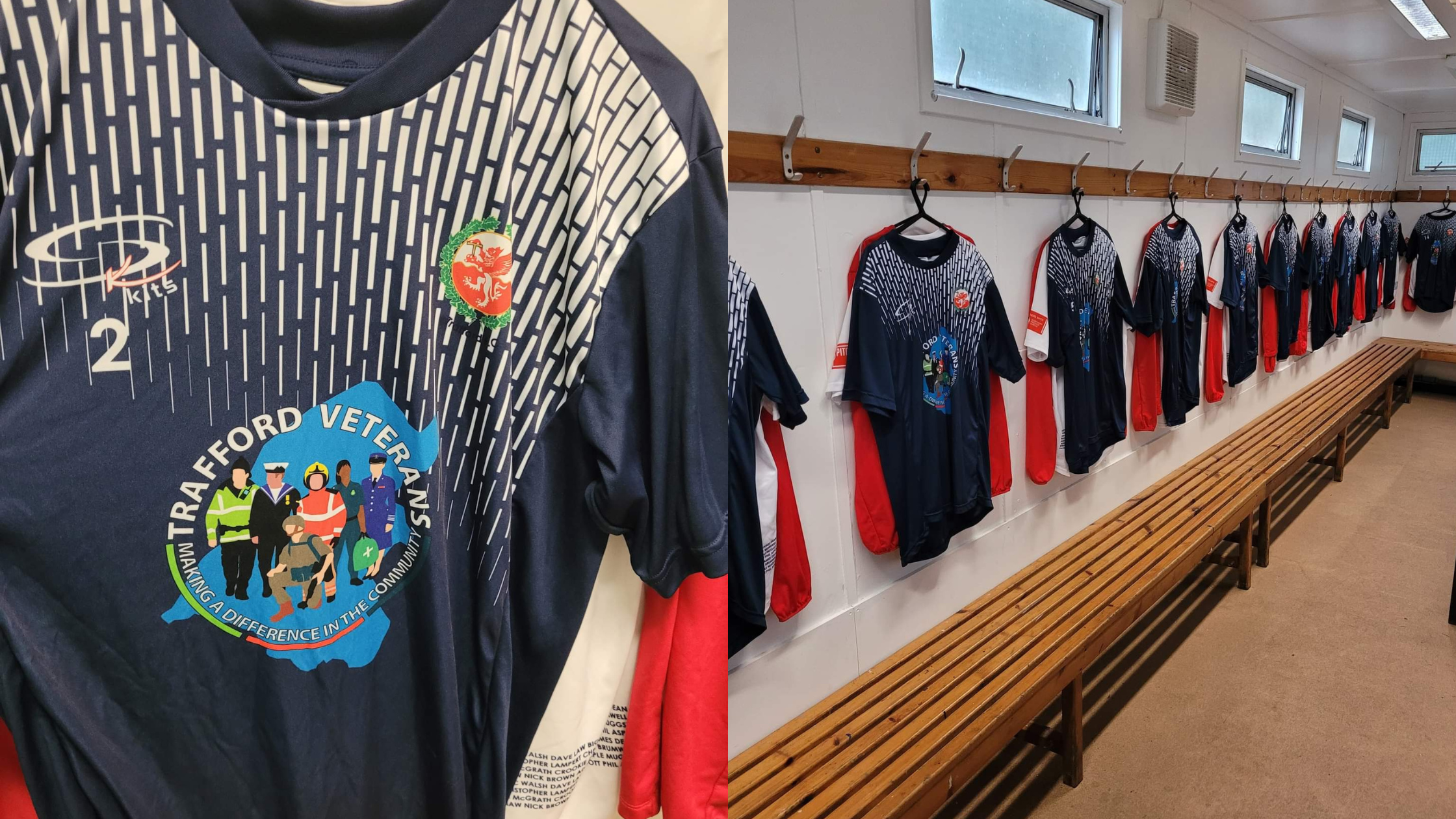 "We are incredibly proud to see our logo on the kits. The whole thing has come full circle now with us supporting each other rather than it being one sided.  Their support is incredible and we are so pleased to see permanent Armed Forces flags up in the stands now"-Claire Wright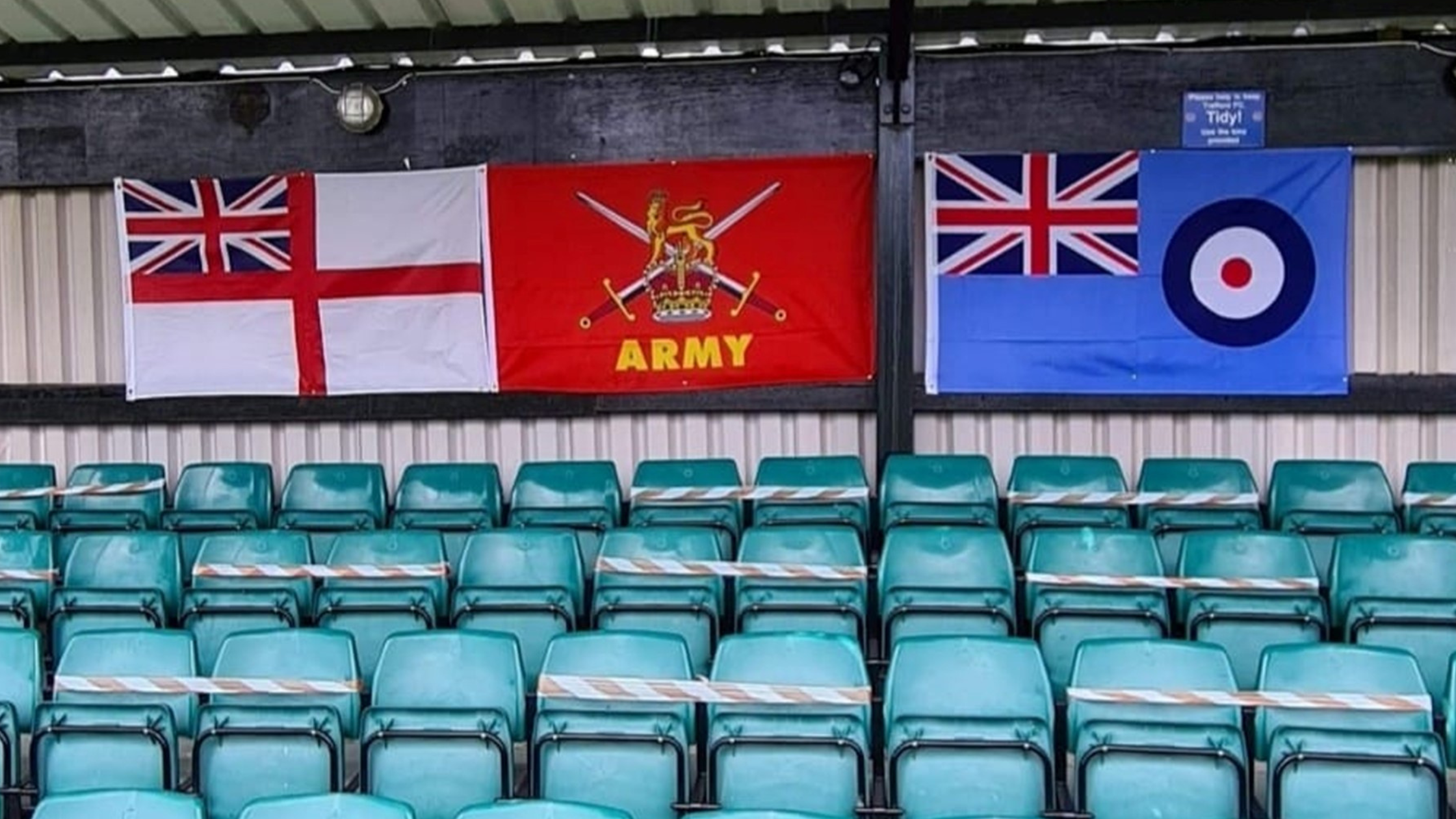 After speaking to Melody, John and Claire we feel there is more to come from this tight team. Plans are already underway for the Armistice Day service at the ground
"This year our Armistice Day commemorations will land on the 12th November against Macclesfield and we know they too will honour and respect the service"-John Eadie
If you would like to support Trafford FC or Trafford Veterans CIC in anyway then please contact them via their websites. For other teams that support Trafford Veterans please read our article on Sale United FC
Here at Terraces and Troops we love to report on the bond between football and the forces. If you have a story for us get in touch. If you need to raise fund for your armed forces or football organisation, then we can help.